Glowown Argan Oil Keratin Hair Mask (Pack of 2)
Glowown Argan Oil Keratin Hair Mask, 200 ml
Scalp Massage
100% Natural
Soft and Manageable Hair
Repairs Damage
Adds Volume
Rebuilds Split Ends
Provide Lustrous Sensation
... people are viewing this right now
---
Glowown Argan Oil Keratin Hair Mask is a powerful combination of Argan Oil & Keratin that encourages to restructure, regrow & strengthening weak, worsened, and over-processed hair. It helps to enhance and revitalizestrands to minimize breakage and hair fall. It acts gently enough for the most fragile strands & makes the hair feel fluffy, smooth, manageable, and more agile. It also stores moisture with the help of an antioxidant agent that rejuvenates the scalp and restores hair's elasticity. Argan Oil Keratin Mask is a nourishing hair mask that is suitable for all hair, perfect for damaged and lacklustre hair, this mask combines multiple essential oils to provide the hair with essential antioxidant protection and nourishment through high contents of Fatty Acid end Omegas Working to reconstruct the hair fibre. This mask leaves the hair silky soft and wonderfully smooth with a lustrous shine.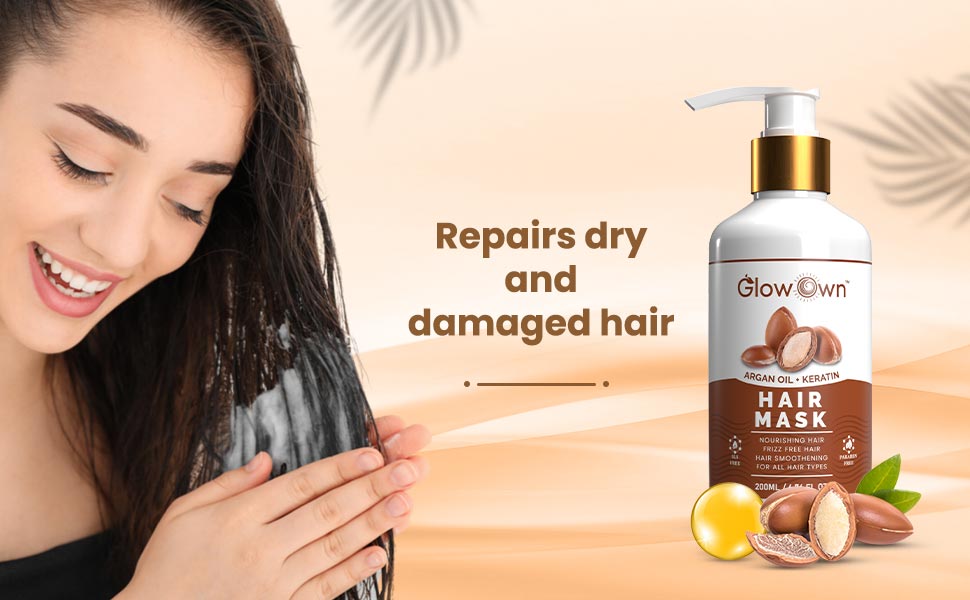 Ingredients
Argan oil, Hydrolised keratin, Almond oil, Water, Polyquertenium-10, Polyquertenium-22, Cetyl Alcohol, Dimethicone, Cetearyl Alcohol, PEG-40 castor oil, Stearalkonium Chloride, Dimethiconal(and) TEA Dodecyl benzene sulphonate, Phenoxyethanol.
How to use
After shampooing with Glowown Argan Oil Hair Smoothening Shampoo, apply this hair mask on damp hair evenly from root to tip and leave it in for 5-15 minutes. Gently comb through the entire length to spread the cover evenly. Rinse thoroughly with water. Use twice a week for best results.
Benefits of using Argan oil Keratin Hair Mask
Lessen hair fall naturally Argan Oil and Keratin repair Hair Masks, Reduce Hair fall, Hydrate, Moisturize & Repair, Restores and Strengthens Weak, Damaged, and Over Processed Hair, and Promotes Natural Hair Growth & Shine.
Treats Scalp
Glowown Hair Mask reduces the occurrence of dandruff and other scalp irritation and keeps the scalp moisturized. Keratin helps in unclogging hair follicles and Argan oil nourishes your roots. This has been used as a great dandruff cure for ages.
Repairs & Revives
The Argan Oil and Keratin Hair Mask is a restorative conditioner, formulated with natural oils and carefully nominated natural compounds, to help improve the hair's prevalent texture and bring damaged hair back to life. It protects hair strands from styling heat and UV damage while creating delicate, seductive, silky perfection. It stimulates the hair's nutrients and helps attain healthier, longer, and thicker hair.
Promotes new Hair
This Hair Mask provides the highest standards of excellence in natural extracts that deep condition and moisturize hair strands to control hair fall and promote natural growth & shine for all hair types.