Glowown Argan Hair oil (Pack of 2) 200Ml
Glowown Argan Hair Oil with 14 herbs 100 ml
Frizz-Free & Stronger Hair
Daily Nourishment
Hairfall control
Scalp Treatment
All Hair Types
100% Natural Oil
... people are viewing this right now
---
Glowown Argan Hair Oil with 14 herbs is a premium non-sticky hair oil mixture formulated to restore thin, dry, brittle, undernourished, split-ended, frizzy, and unmanageable hair. It contains natural & finest quality Argan Oil along with Amla, Aritha, Bhringraj, Brahmi, Jatamanshi, Jojoba, Rosemary, Heena, Jasud, Jasmine, Jaborandi, Neem, Methi,
Indravarani, Karanj, Coconut, Almond. Glowown Argan Oil deeply regenerates smooths and restores radiance to damaged, dry hair. It is made with 100% pure cold pressed oils, 100% free of mineral oil and silicone for holistic hair care.
Regular application of Glowown Argan Hair Oil brings hair softer, silkier, and smoother. It enables strengthening hair strands, decreasing hair damage, and enhancing overall hair health. It develops softness and strength in your locks, protecting your hair from deadly styling heat and UV damage, and providing you with smooth and glowing tresses. It gives
color and highlights a multifaceted glow, restrains fly-away frizzies, and mends split ends. It's full of essential ingredients like antioxidants, fatty acids and Vitamin E making it a hair care suitable and satisfactory for all hair types.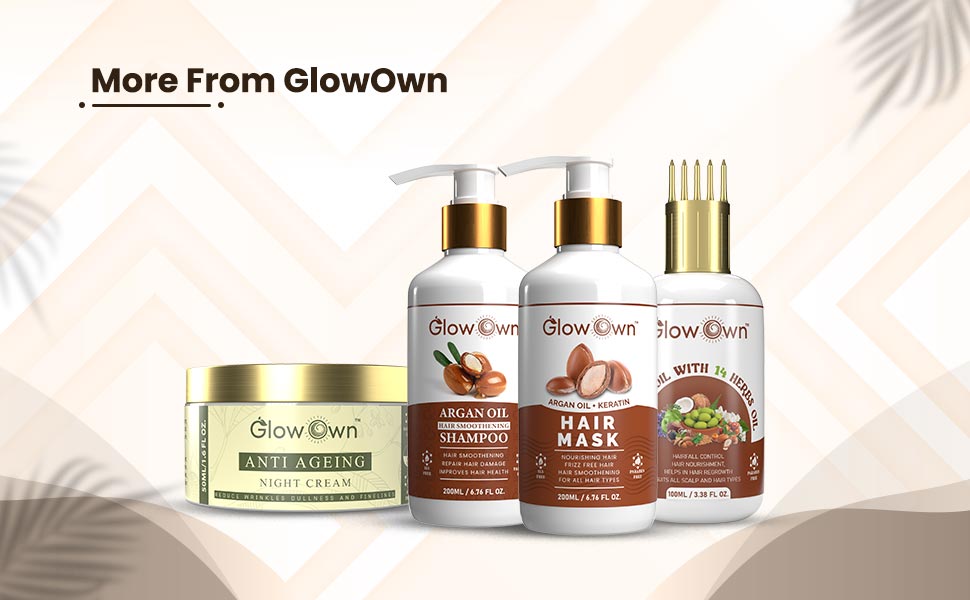 Ingredients
Argan oil,Amla,Aritha,Bhringraj,Brahmi,Jatamanshi,Jojoba,Rosemary,Heena,Jasud,Jasmine,Jaborandi,Neem,Methi,Indravarani,Karanj,Coconut,
Almond.
Benefits of Argan oil
Argan oil is often referred to as liquid gold.
Its unique quality makes it extremely nutritious and expensive. Here are some benefits of
Argan Oil as follows:
1. It acts like sunscreen for your hair
Performing as a daily protector from UV rays, this oil greatly minimizes the damage done by
hair styling tools. Argan Oil is one of the best natural heat-protectant ingredients to make use
of, courtesy of the antioxidants present in it.
2. Works as an Intense conditioner
Argan Oil is rich in fatty acids and Vitamin E. Products infused with it instantaneously
revitalize the dry mane and lubricate the hair shaft and help you to maintain moisture in your
hair. Post-wash, once the hair is dry, find yourself continually brushing your fingers softly
through your hair for that ultra-soft feel of argan oil, as Vitamin E helps in providing a
moisture level to the outer layer of your hair.
3. Expert at fighting frizz
If you have frizzy, dry, and dull hair, Glowown Argan Oil is the one-stop solution for you.
Getting rid of frizziness is not the easiest thing in the world. Difficult, rough strands of hair
standing out to show their presence to the world are best tamed with the antioxidants and
fatty acids present in argan oil.
4. Helps in improving scalp health
Argan oil is infused with anti-inflammatory and antioxidants that are great for your scalp. The
oil penetrates deeper into your scalp, enriching the hair follicles from the roots. The
antifungal properties are imbued in so if you are struggling with dandruff and any kind of
irritation, then you may be able to get rid of it with regular usage of this oil.
5. Prevents hair loss
If you are enduring hair fall for a long time now then you should give argan oil a go, it can
help in preventing hair fall. Argan oil has a high nutritional value which renders hair follicles
stronger and healthier. Using argan oil regularly will give you great results in the long run, it
will make your hair shiny and lustrous and increase hair elasticity making them appear nice
and glossy.
How to use
The best way to use Argan Oil and get most of the benefits is by using it for scalp massages
to get a better formulation. Massage your scalp with the oil well and leave it on for a few
hours or even overnight. Then rinse your hair with a mild shampoo.