Glowown anti-ageing Night Cream (Pack of 2)
Glowown anti-ageing night cream, 50 gm
Reduce Wrinkles
Tightens the Skin
Decrease Blemishes
Stimulates Collagen Synthesis
Lighten Dark Spots
Bring Youthfulness One of the biggest skincare struggles that everyone deals with is to try and keep the youthful shine throughout life.
... people are viewing this right now
---
However, it's hard to maintain as your skin undergoes so much wear and tear during everyday life. There are helpful products such as anti-ageing cream that can help you win that battle. The active ingredients in night cream have been specifically chosen to work most effectively in this thicker formula and in conjunction with your skin's nightly
process. Glowown anti-ageing night cream's potent formulation is powered by several supremely skin-reviving bio-actives – aloe leaf juice, shea butter, olive oil, glycerine, hyaluronic acid, and vitamins c and e. Glowown skin science anti-aging cream is ensured free of any harmful chemicals such as sulfates, parabens, and mineral oils, Our anti-ageing skin care products work by stimulating collagen synthesis which is needed in reducing wrinkles and fine lines, especially in the facial area. Consumers will be delighted in knowing that studies have shown noticeable improvement within two months of use.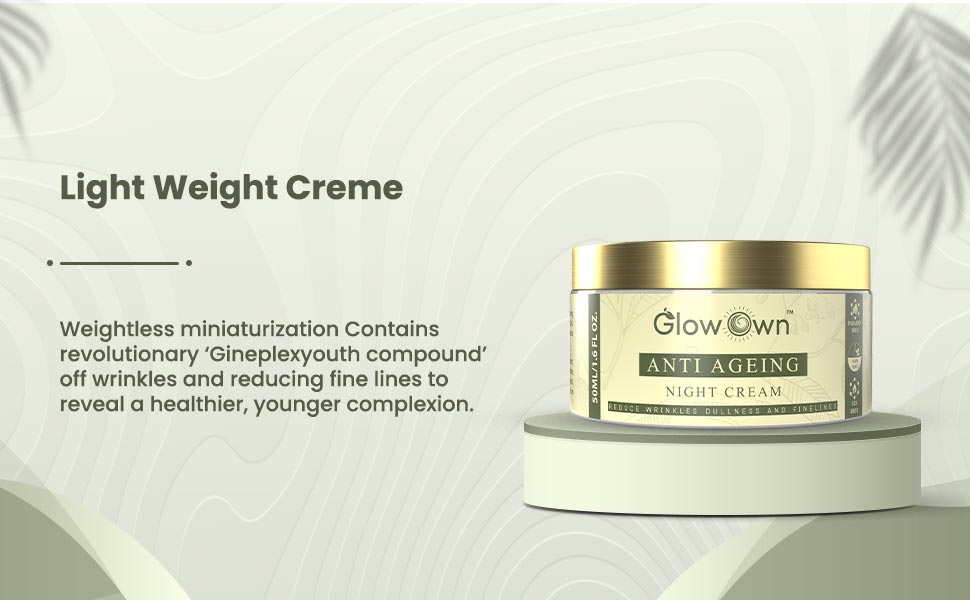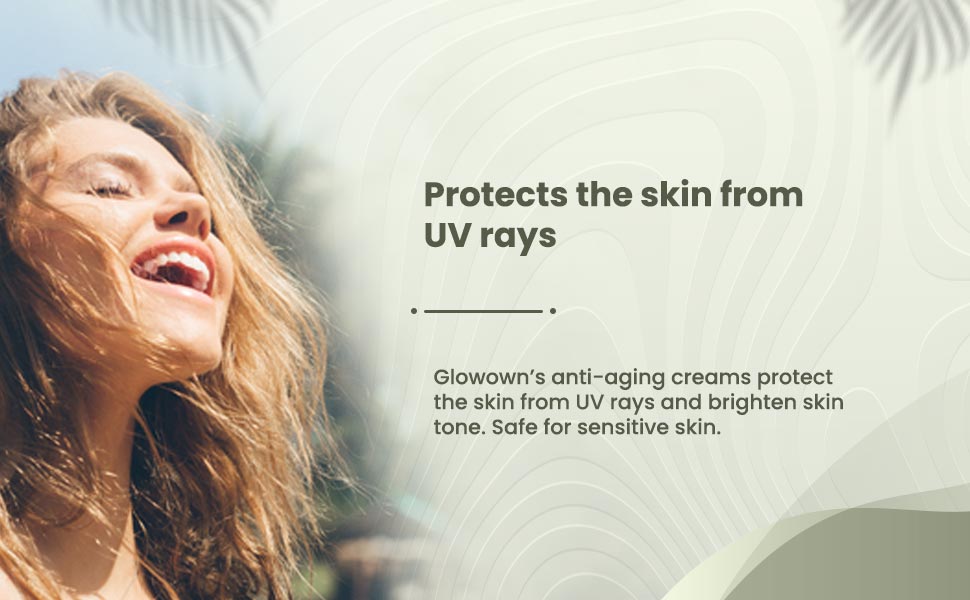 Ingredients
Hellianthus annus seed oil, Saxifraga Sarmentosa Extract, Carica Papaya Extract, Psidium Guajava Fruit Extract, Cetearyl Olivate, Sorbitan Olivate, Cetearyl Alcohol, Cetyl Palmitate, Sorbitan Palmitate, Sorbitan Oleate, Olive Oil PEG-7 Esters, Ceto Stearyl Alcohol, Phenoxyethanol, Stearic Acid, Dimethicone, Ethyl Hexy Olivate, Glycerine, Triethanolamine, Aqua, Tartaric Acid, Disodium EDTA , Sodium Sulfite, Sodium Metabisulfite, Glycerine,Butylene Glycol.
Benefits of Anti-Ageing Night Cream
A good quality night cream enhances your skin and helps in soothing, repairing, restoring, and rejuvenating it.
Collagen boosting
Wrinkles and fine lines become more prominent when collagen is depleted. Using a night cream boosts your collagen production, enabling your skin to look plumper and firmer and lessens sagging, reducing the appearance of fine lines and wrinkles. In short, the elasticity ofyour skin is offered a much-needed boost.
Soothing
Your face has quite an arduous job during the day. It needs soothing and moisturizing to fight. By bedtime, following your evening routine, chances are that any potential irritation in your skin is at its most. A night cream can help to calm and soothe your skin overnight so that any redness or irritation is evicted while you sleep. Doing this at night is the way to get
the best balance. This also ensures that, by morning, you have an even irritation-free skin tone.
Moisturizing
During the daytime, your face is bombarded by pollution and sun exposure. It becomes dry till nighttime and gives rise to dark circles under your eyes which are often caused by dehydration. A night cream will keep your skin hydrated overnight, ensuring that you wake up looking fresh-faced, wonderfully smooth, and supple.
How to use
Use your chosen Cleanser first to remove dirt and excess sebum adopted by the skin throughout the day. Then start applying the night cream by dabbing on a generous amount of night cream using clean fingertips. Then apply an upward and circular motion to massage the cream into your skin. Massaging is an important part of stimulating absorption and
circulation.